Pet grooming is a challenging and hands-on job. While it is certainly rewarding, it also poses the potential risk of dog grooming injuries and accidents.
Therefore, being aware of common injuries, knowing what to do in the event of an accident and having your wits about you are essential aspects of the job.
How common are dog grooming injuries?
According to Groomer Talk, a forum for professional groomers in the US, accidents and injuries are fairly widespread. Here are a few comments from members discussing common injuries.
"Even the best groomers have accidents. My worst one was an eyelid cut where it bled into the eye. It was a wrinkly Shih Tzu that I was scooping the eyes out on and didn't pull the skin up taut. It taught me a good lesson!"
"Accidents happen. Especially when you mix really sharp equipment and unpredictable dogs. The thing is, you just need to be upfront about what happened and deal with it. Most owners know that we are not out to hurt their babies. So they tend to be understanding."
"I nicked a dog's armpit that required stitches. As the vet was repairing the wound he was trying to console me. He told me that it happens, even to him, and to quit freaking out."
15 ways to avoid accidents and injuries
By always having pet safety at the top of your mind and using necessary caution, you can help reduce the likelihood of injury – to yourself and the animal.
Start by always asking you client on arrival whether the dog has any illnesses, health or behavioural issues.
Before you start grooming, check the dog's skin for any abnormal lumps and bumps, parasites, wounds or existing injuries. Alert your client to anything that may be potential for injury.
Inspect the dog's ears for bad odour or inflamed skin as these could indicate infection. You don't want to get the blame later down the track!
Encourage clients to brush their dogs in between grooming visits to help lessen knots and tangles, which could result in injury or discomfort when being groomed.
Use relaxation tactics, such as playing soothing music or talking gently, to keep dogs calm.
Ensure dogs are properly restrained at all times to prevent them from falling off the grooming table.
Keep treats nearby.
Allow the dog to take regular breaks.
Make sure you have non-slip surfaces, not just on the floor — on grooming benches too.
Be alert to signs of fear or anxiety. (Find out more about behavioural indicators here).
Make sure your grooming tools are close to hand so you don't have to turn your back on your dog.
Keep clippers lubricated to help them glide over the skin and prevent burning.
Avoid distractions, such as phone calls, texts etc.
Take extra special care around dogs' eye area.
Use dryers on a low heat, low-force setting to avoid burning the dog or frightening it.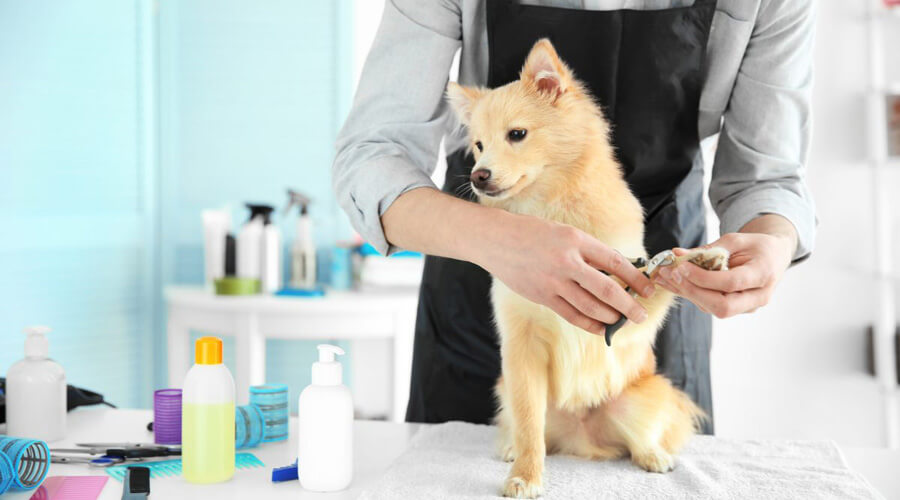 Image source: The Academy of Pet Careers
What if a dog grooming injury happens?
The key when dealing with any accident or emergency is to stay calm. Having a first aid kit on hand is essential (Check out what should be in your first aid kit here).
Signs that the animal may need emergency care include:
Difficulty breathing
Unconsciousness
Deep cut or wound
Bleeding that doesn't stop after 2-3 minutes
To treat a small cut, wash the area with saline and put a compress on the wound to stop the bleeding.
Once the bleeding has stopped, dab a small amount of antibiotic ointment on the wound.
If a dog does get injured while in your care, it's important to immediately point this out to their owner on collection. Apologise and explain how the accident or injury happened. If it's a minor injury you can advise the owner to keep an eye on their pet and if it worsens to let you know or contact their vet.
If the injury requires immediate veterinary advice you may need to offer to pay for the associated vet bills.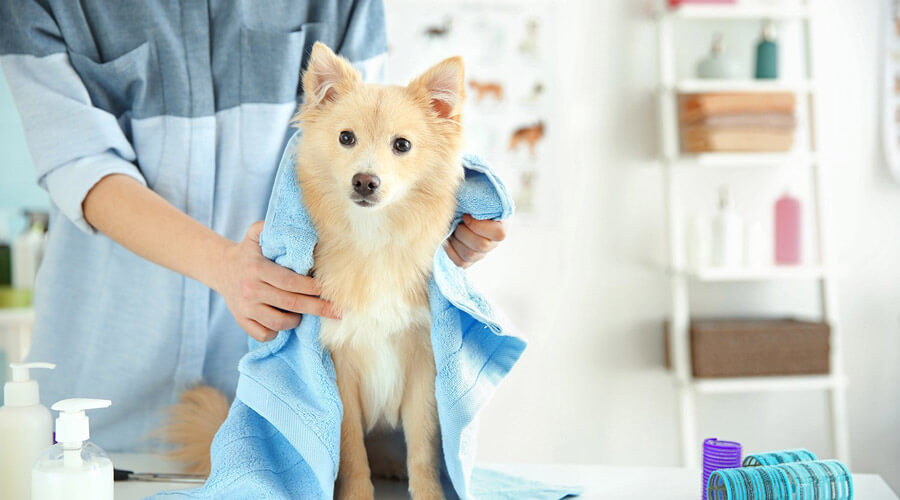 Image source: Australian Dog Grooming School
Protection for you
Preventing accidents, injuries and mishaps in general is all about hoping for the best but planning for the worst. Given the fact that grooming-related pet injuries are common, it's important to have the right insurance.
Public liability insurance protects you if a client, supplier or member of the public makes a claim against. This applies to instances where they believe you are responsible for causing accidental injury to them, or for damaging their property. It may sound extreme, but I read about a case where a dog had jumped off the grooming table and smashed through the window because he had seen his owner approaching. The dog ran into the car park, causing a car to swerve and hit the dog owner. Just imagine!
No matter where your work takes you, public liability will cover you – whether it's your physical salon, a mobile service, or in your own home. So, for traditional grooming salons it will safeguard against common risks such as slips and falls, as well as other accidental injuries.
But what if you accidentally nick or burn the skin of a dog? Small mistakes can result in big problems.
Professional indemnity insurance can protect you if you are accused of negligence or malpractice in your professional capacity. Or even if somebody simply decides they're not happy with the service you've provided, they can still make a claim against you.
Professional indemnity can cover your legal costs and any damages that you may have to pay to your client.
Despite the potential challenges, pet grooming can be a fantastic career. You get to hang out with furry friends and there's also the flexibility to work from different locations. It just pays to be aware of the things that can go wrong and to put the measures in place to protect yourself, should the worst happen.
The following two tabs change content below.
Leanne Philpott
Leanne is a professional freelance writer at contentchameleon.com.au. She works alongside her fur pal Chewie (a border terrier) to deliver information that is accurate and relevant to our readers.
Latest posts by Leanne Philpott (see all)