Jan 2nd is National Pet Travel Safety Day. This marks a perfect occasion to educate clients and pet owners on how to keep their pets safe when travelling.
As pet professionals you already know how important it is for pet owners to consider their pet's safety when travelling by car, or any other means.
However, pet parents can tend to forget or underestimate the need to take ample pet travel safety precautions. This is why it's useful for professionals to use National Pet Travel Safety Day as a reminder.
How to promote pet travel safety
Travelling can be hugely stressful for owners and their pets. Yet, by offering up a few simple tips and reminders you can help your clients ensure their pet's health.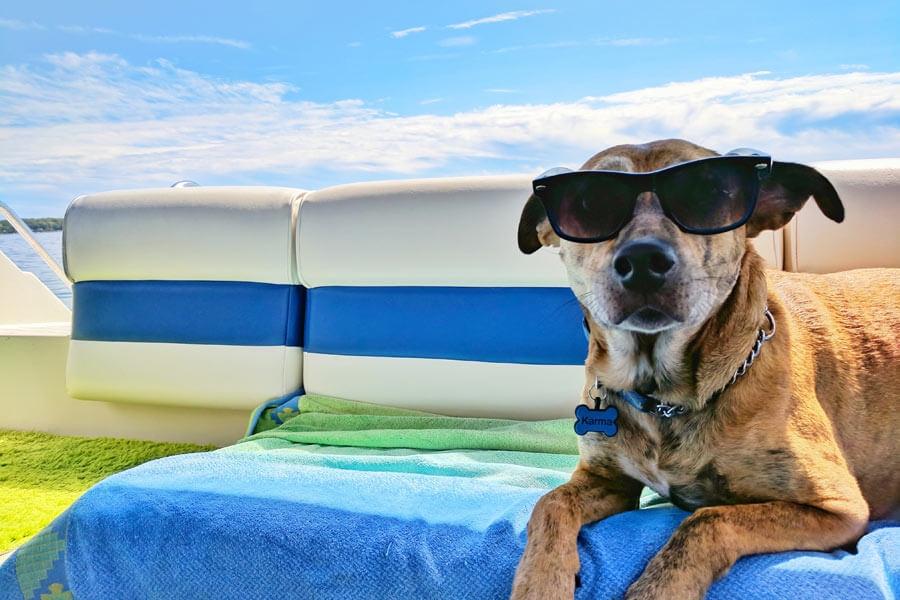 Image source: Tamara Bellis on Unsplash
Here are a few pet travel safety hints to get you started.
Firstly, remind owners to check in with their local vet to make certain their pets are up to date with their vaccinations, flea, tick and worming treatments.
Prepare your pet for travel. Going on a road trip might be the first time an animal has been in the car. Advise owners to do a few test trips before they set off on their big adventure. This might mean a trip to the shops or a car ride to the local park. It's a good way for owners to assess how their pet reacts to a car ride ahead of the day of travel.
Consider using a harness or carrier. Having a pet roam free during a car journey is dangerous for both owner and animal. Ask if your client has thought about how they will secure their pet while in the car. They might not have contemplated a doggy seatbelt. Alternatively, they could buy or hire a pet carrier to help ensure their beloved pet's safety.
Keep Fred on a leash. Even if a pet owner is using a safety harness or pet carrier, remind them how important it is to leash their animal before opening the car doors. An over-excited, travel sick dog will leap from the car the moment the opportunity arises. Not only could the animal injure itself, it could also cause harm to others. Owners can easily reduce this risk by simply making sure their dog has its leash on before anyone exits the car.
Pack familiar food. Travelling alone can be upsetting and stressful for pets. The last thing they need is to be exposed to different food too. Advise owners to maintain the pet's usual eating routine as much as possible. This means feeding them at the same consistent time and also feeding them their usual food. The last thing any pet owner needs is a dog with diarrhoea on a long car journey!
Don't forget water. Travelling is thirsty work, particularly for dogs. Remind owners to take plenty of fresh water (plus a bowl) on their travels to keep their pet well hydrated and happy. Make them aware that panting can increase an animal's need for water. Additionally, make certain they are aware of the common signs of dehydration. This includes:
A dry nose
Panting
Thick saliva
Dry, sticky gums
Lethargy
Factor in rest breaks. While we humans might happily drive non-stop for three or four hours, our four-legged friends might be in desperate need of a stretch or toilet break. Scheduling in frequent rest breaks is an important part of pet travel safety.
Be prepared for emergencies. For owners whose pet has a long history of illness or is particularly old, it might be worthwhile suggesting they get a list of diseases or injuries, vaccinations and medications from their vet. If, by chance, the dog does get sick while away, this will help ensure they get the best possible care in the quickest time.
Pack a pet first aid kit. If an injury or emergency does occur, a pet first aid kit might just come in essential. At the very least, it might help the pet owner to secure an injury ahead of seeking veterinary advice.
Finally, it's worth highlighting the importance of not leaving dogs or cats unattended in hot cars. According to RSPCA Australia, it takes just six minutes for a dog to die in a hot car. The temperature within the car can rise rapidly, even when the car is left in the shade or with a window open. Heat stroke is a serious condition which can be fatal, so it pays to make sure pet owners are aware just how vital it is not to leave their fur pals in their vehicle (even just for a few minutes!).
Got any more pet travel safety tips? We'd love to hear them. Simply post in the comments below.
The following two tabs change content below.
Leanne Philpott
Leanne is a professional freelance writer at contentchameleon.com.au. She works alongside her fur pal Chewie (a border terrier) to deliver information that is accurate and relevant to our readers.
Latest posts by Leanne Philpott (see all)