June 25th is Take Your Dog to Work Day! Established by Pet Sitters International, Take Your Dog to Work Day celebrates the bliss brought about by canine companionship.
However, whether you're an employee or an employer, a little bit of forethought is needed to ensure Take Your Dog to Work Day is a triumph and not a total disaster!
Tips for employers
Sure, Take Your Dog to Work Day is a wonderful opportunity for businesses to recognise the vital role pets play in the lives of their staff.
However, it's not a matter if throwing open your doors and inviting every barking buddy to spend the day in your place of work. Employers still need to keep health and safety regulations top of mind, amongst other things.
So, if you are considering allowing your staff to bring their dogs to work, it pays to plan ahead. Here are some tips to ensure the day runs smoothly.
1. Ask the opinion of your staff
Before you decide that Take Your Dog to Work Day is a good idea, open up the conversation. Just because you love dogs or a bunch of your staff love dogs, this doesn't mean everyone does.
Indeed, there may be someone on the team who is allergic to dogs. (Okay, this is unlikely if we're talking about a veterinary practice!). Nonetheless, it's important to gather everyone's opinion.
There are also cultural considerations. For example, in Western cultures, the dog is considered 'man's best friend', but in some cultures, dogs are not viewed in the same positive way.
2. Do an office check
Not all workspaces are safe or appropriate to have dogs roaming around. As such, it's important to do a thorough office check. Look at your workplace through the eyes of a dog. Are there any dangers, escape routes or areas that should be out of bounds to pooches?
Dog-proofing your place of work might involve covering up wires, removing low hanging cords and moving sharp or dangerous items to higher ground.
3. Set the rules
To ensure Take Your Dog to Work Day is a huge success, rules are necessary. For example, it's probably not a great idea to have dogs roaming around your office kitchen, so make that area out of bounds.
Also, you might suggest that dogs be kept on their leash or that there needs to be a roster for doggy toilet breaks. After all, you want the day to run smoothly, not turn into 7 hours of furry madness!
4. Discuss your expectations
It's all well and good having a clear set of rules but you need to communicate these to your staff. It's also important not to assume. Instead, clearly lay down your expectations. These might include:
Turning up early to allow time for the dogs to interact and meet each other
Bringing the appropriate items to ensure the dogs' comfort and care (i.e. water, food, bed)
Being responsible. If a dog has an accident, its owner must clean up
5. Consider the benefits
There's no denying that Take Your Dog to Work Day can be an awesome way to boost staff morale. Dogs can help lower stress and increase productivity.
Plus, participating in this special day might even make your business more attractive to potential new recruits. According to a 2019 survey by Mars Petcare, 52% of respondents said they would choose a dog-friendly employer over one that's not. Furthermore, 87% of employers believe dog-friendly policies help attract and retain staff.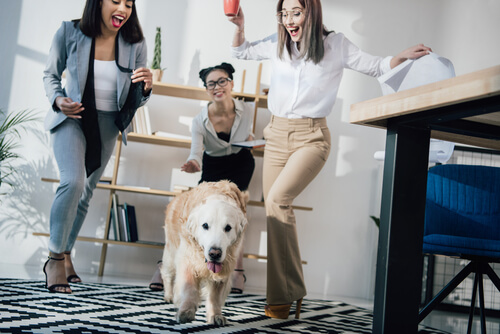 Tips for employees
Love the idea of bringing your beloved pooch to work with you? Make sure you take the necessary steps to ensure the day runs without a hitch. You never know, your boss might allow you to bring your canine chum to work every day!
1. Consider your dog's needs
First and foremost it's vital to bring everything your dog needs to feel happy and safe in his or her new environment.
You pooches bed, food and water bowl, lead, toys (not squeaky) and treats are essential. Plus, don't forget doggy bags and cleaning stuff — in case your fur pal has a little accident!
2. Arrive early for the introductions
Showing up 10 minutes late and then spending another half an hour fussing around to make a comfortable and safe space for your dog is not going to end well.
Arrive at your place of work at least 15 minutes early to allow time for your dog to perform a relaxed meet and greet.
3. Consider finding a buddy
You'll need to factor in doggy toilet breaks and exercise time. A good idea is to buddy up with a co-worker. This way, if you're pulled into a meeting or you're on a lengthy phone call, your buddy can step in as a surrogate pet parent.
Having a buddy will reduce your stress and help avoid any accidents on the office carpet!
4. Be prepared (for anything!)
Talking of accidents, it's important to be prepared for the unexpected. For example, maybe your dog never vomits but all the excitement of office life causes him to throw up onto your shoes.
Think long and hard about potential scenarios and how you would react. Also, consider what else you might need to bring to avoid a complete disaster.
Bearing in mind, of course, Take Your Dog to Work Day shouldn't be a major headache. It's supposed to be fun.
5. Reward calm behaviour
Don't forget to give your dog a treat for good behaviour. Rewarding calm behaviour reinforces peaceful behaviour. The next time you bring your dog into the office he'll hopefully remember that calmness pays off in the form of yummy dog treats!
Got any great tried-and-tested tips for a successful Take Your Dog to Work Day?
Image source: Pavel Herceg on Unsplash
The following two tabs change content below.
Leanne Philpott
Leanne is a professional freelance writer at contentchameleon.com.au. She works alongside her fur pal Chewie (a border terrier) to deliver information that is accurate and relevant to our readers.
Latest posts by Leanne Philpott (see all)