Becoming a professional pet groomer or stylist can be a great way to work with animals and make money at the same time. However, before getting started, it pays to clue up on all the pros and cons.
Being a pet groomer isn't just about cool haircuts and great grooming. You need to have the skills and knowledge to make sure your four-legged clients are safe and stress free.
Of course, once you have completed the necessary training and have the ability and know-how to become a professional pet groomer, it can be a truly rewarding career.
Nonetheless, being aware of the upside and the downside of the job is paramount to ensuring it's the right career path for you. Here's a look at some of the key pros and cons of being a pet groomer.
Pet groomer: PROS
For the love of animals — You get to work with furry clients day in day out. What's more, you are taking care of them, promoting healthy habits and supporting their wellbeing. That's got to be rewarding and enjoyable, right?
Access & cost of training — There are a variety of pet stylist and animal grooming courses across Australia. Plus, it's much cheaper and quicker to achieve your qualifications and get started in your career, when compared to a university degree.
Flexibility — One of the key benefits of becoming a professional pet groomer is the hours and the adaptability of the role. Generally the hours can be flexible. Plus, if you start your own pet grooming business, you can stipulate what days of the week and hours you work (to a degree!). There's also the opportunity to run a mobile grooming business. This allows you to travel, keep overheads low and can help generate a whole new clientele, outside of your local area.
Demand — As the number of pet owners increases, so does the demand for professional pet groomers. More then ever before, people are treating their pets like members of the family and are spending more and more of their income on their pets.
Diversity — Similar to being a human hairdresser, pet groomers can expand their skills in different areas, learn new techniques and offer additional services. This keeps the job fresh and exciting. Additionally, each dog or cat has its own unique personality, so every fur client brings new challenges and new delights.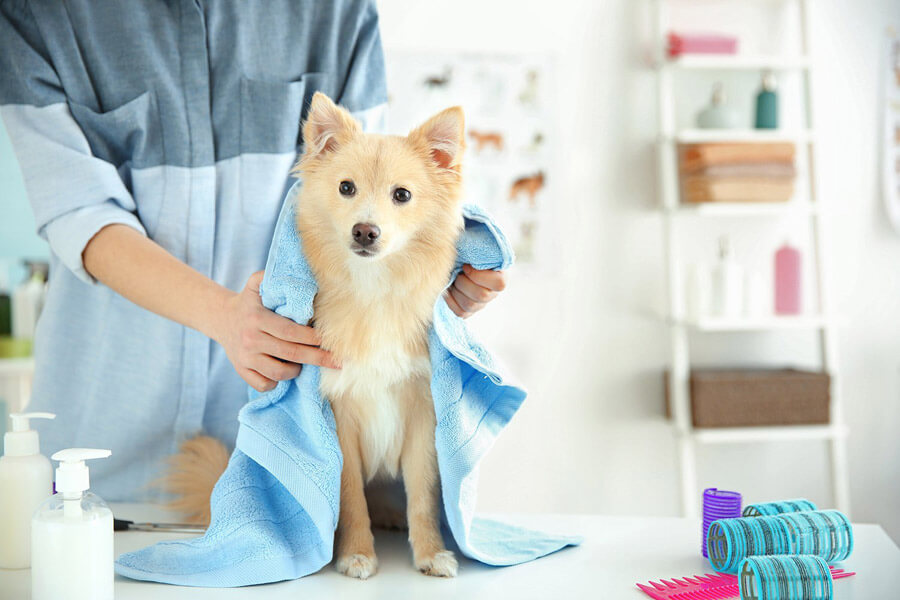 Image source: Australian Dog Grooming School
Pet groomer: CONS
Indeed, every job has its positives and negatives. To help you discover if being a professional pet groomer is the right role for you, here are some of the main cons.
Active work — A certain level of fitness is required to be a dog groomer. Certainly anyone who has issues with their feet, legs or back might find it too demanding to be standing, lifting and bending the majority of the day. Of course, that's not to say you won't have adequate breaks and get a chance to sit down, but much of the work is on your feet.
Managing difficult behaviours — There's the saying, 'never work with kids or animals'; animals can be unpredictable, particularly if they're feeling stressed or anxious. A professional groomer needs the skills and confidence to read animals' body language and recognise how to deal with difficult animal behaviour.
Bites and injuries — Injuries from scratches and bites are fairly common when working with animals. You'll need to know first aid for pets and humans. Additionally, make sure you have appropriate insurance to cover you for personal injury as well as to protect yourself should an animal become injured while in your care.
Long days — Despite the fact that if you work for yourself, you can set your own hours; as your business grows and your client base expands, you'll need to work more and more hours. Yes, this is a good thing, because it means you'll be earning more income — but it can also be hard to fit clients in. You may end up working long days and even weekends to accommodate your clients' needs.
For the love of people — Dog grooming is a social career. So, if you're not the biggest fan of people (even if you like their pets), being a pet groomer might not be the best career for you. Of course, if you love chatting to people and meeting new people, then this isn't a con. Instead it's a big fat pro!
Certainly, becoming a dog groomer has its benefits. However, it's always important to look at the advantages and disadvantages before deciding whether it's the career path for you.
We hope this has helped you to make an informed decision about applying to join your local pet grooming salon or starting your own pet grooming business.
If you already work as a pet groomer, we'd love to hear your thoughts on the pros and cons of the job.
If you enjoyed reading this, check out the other posts in the series:
Pros and cons of being a dog walker
Pros and cons of starting a pet sitting business
The following two tabs change content below.
Leanne Philpott
Leanne is a professional freelance writer at contentchameleon.com.au. She works alongside her fur pal Chewie (a border terrier) to deliver information that is accurate and relevant to our readers.
Latest posts by Leanne Philpott (see all)