Days spent outdoors, at the beach even, enjoying the company of canine chums — sounds great, right? Being a dog walker is a cool career. But before you jump in with both feet, let's explore the pros and cons.
After all, even the very best jobs in the world have a downside. So if you're considering a career as a professional dog walker, don't go into it blind. Take the time to research the role and carefully consider the ups and downs.
Here are some of the key pros and cons of being a professional dog walker.
Professional dog walker: PROS
Don't get us wrong; we don't want to completely turn you off your chosen career, so let's start with the positive side of being a dog walker.
Flexibility — Okay, so a dog walker will have to adhere to appointment times and you may be expected to start early in the morning. However, the job is not as rigid as an office-based nine-to-five role.
Plus, if you plan to expand your business and take on other dog walkers you can always off-load the early starts to your employees!
No office politics & drama — Surely no one can be bothered with office politics? Four-legged doggy clients are much easier to handle (and more pleasant) than humans.
Of course, it's mighty difficult to prevent ALL possibility of drama. For example, the dog you're walking might get into a fight with another dog. It might have an unusual behavioural change or it might break free of its lead and run away. In general though, drama is fairly minimal for professional dog walkers. Phew!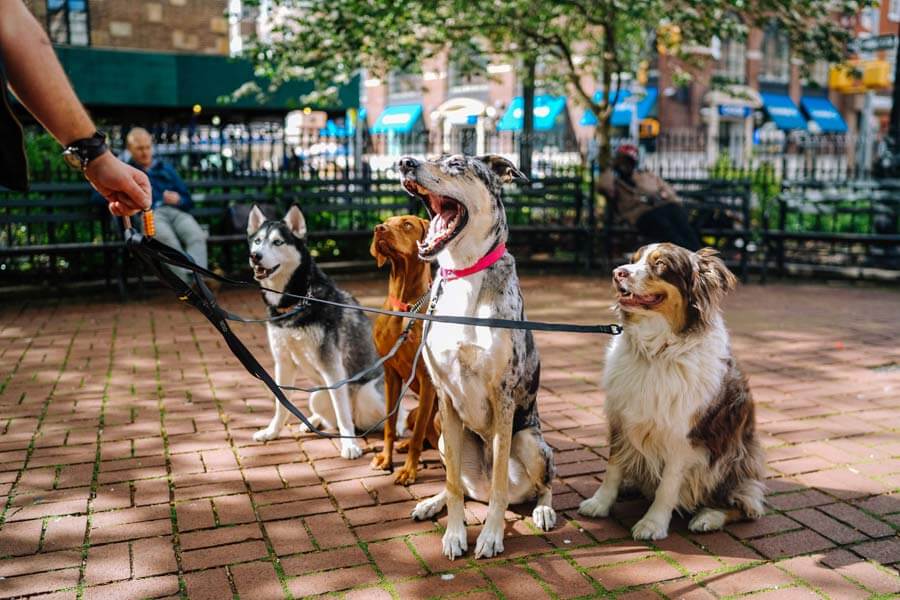 Photo by Matt Nelson on Unsplash
Enjoyable exercise — Forget hitting the gym at six o'clock in the evening when every other man and his dog are there; as a dog walker, daily exercise is part and parcel of the job. Bonus!
Furry friends — Being a professional dog walker you get to meet lots of canine chums. Plus, aside from your doggy clients, you'll get to meet other dogs while out and about on your dog walking route.
Independence ­— Running your own dog walking business can be great, providing you set boundaries from the very start. You have the independence to set your own rates, specify what days you're available (although turning clients away on days you're not available can be tricky) and set down your rules.
New friends — Aside from the fantastic fur friends you'll make, if you're lucky you'll also meet some great humans too. Be it the pets' owners, people in your local community or other dog walkers, being a dog walker can be really sociable and lead to some awesome friendships.
Professional dog walker: CONS
Of course, even if you totally love dogs, being a dog walker isn't all puppy kisses, wagging tails and sunshine. Here are some of the less fun things about being a professional dog walker.
Finding clients — If you're lucky word of mouth will generate clients. However, many dog walkers need to put regular time and effort into sourcing new clients.
Whether it's creating a website, doing a mailbox drop or advertising in a local newspaper, it's important to have a plan from the very beginning. However, luckily there is a range of low-cost and no-cost ways to advertise your business. Check out these marketing tips for dog walking businesses and pet sitters.
Variable income — Similar to a freelancer, a dog walker's income can vary. Yes, you might be able to build up a number of regular clients but there's always the chance of cancellations. Plus, what happens when your client goes on holidays? Unless you happen to also offer a pet sitting service, you might miss out on a chunk of earnings.
Additionally, what happens if you injure yourself and can't walk? Who will look after your clients and how will you make up that lost income? Make sure you look into insurance, such as personal accident & illness insurance, which can cover lost earnings. Aside from that, be sure to take your health and wellbeing as seriously as you do your dogs'.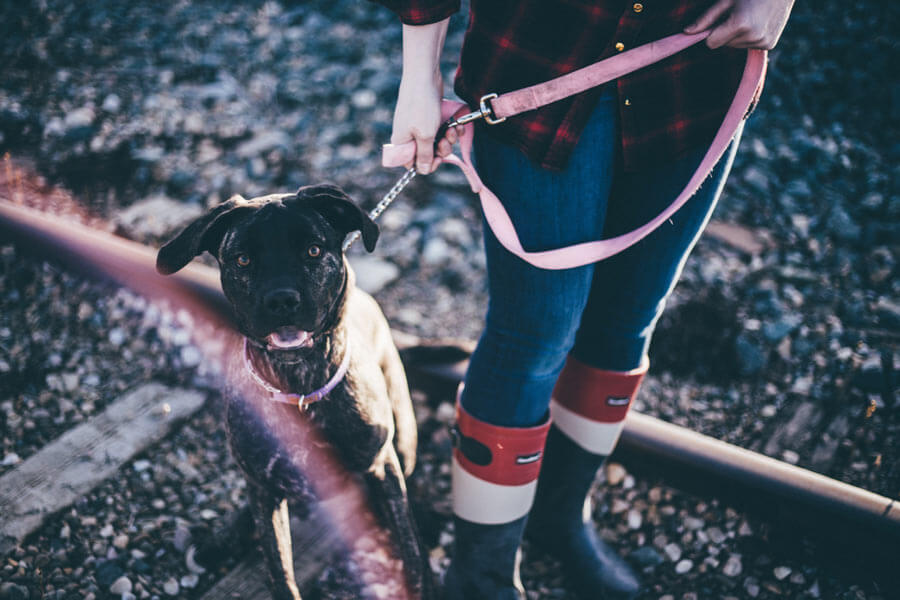 Photo by Priscilla Du Preez on Unsplash
All-weather walks — As a professional dog walker you can't cancel your appointments just because the sun's not shinning and instead it's raining cats and dogs. Gum boots and rain coats at the ready!
Professional poo pick-up — The more dogs you walk, the more dog poos you'll be picking up. Likewise, the bigger the dogs you walk, the larger the poos to poop scoop. Certainly, picking up poops is not one of the nicest parts of being a dog walker.
Difficult clients — There are likely to be some pet owners that you adore and others that you dislike. Indeed, clients who constantly pay late, frequently reschedule and call you at any time of the day or night can test your patience.
As time goes by you might be able to offload the less favourable clients and just keep the nice ones. However, at the start you'll just have to make a concerted effort to be nice and bite your tongue!
Still super keen on starting a career as a professional dog walker? Find out how to get your dog walking business off the ground. Plus, don't forget to check out the insurance options to consider.
If you enjoyed reading this, take a look at the other posts in this series:
Pros and cons of being a pet groomer
Pros and cons of becoming a vet
The following two tabs change content below.
Leanne Philpott
Leanne is a professional freelance writer at contentchameleon.com.au. She works alongside her fur pal Chewie (a border terrier) to deliver information that is accurate and relevant to our readers.
Latest posts by Leanne Philpott (see all)