Anyone who knows anything about animals understands there are many benefits of adopting rescue pets. However, there are still misconceptions circulating amongst the wider public. So, if you're an advocate for animal welfare, time to start talking about all the great reasons to adopt a rescue pet (there are many!).
From finding the perfect pet match to helping break the cycle of homelessness, there are numerous wonderful reasons to encourage pet adoption. The key is to have information on hand should someone you know reveal they're considering a rescue pet.
After all, pet professionals are in an ideal position to help dispel the myths and disseminate trusted information to the local animal-loving community.
The benefits of adopting a rescue pet
Certainly, there are so many great reasons to adopt a rescue pet that it's difficult to know where to start the conversation. Unlike pets that come from a pet shop, rescue pets are usually house-trained. Plus, because they are so happy to have found their fur-ever home they tend to be very loyal and loving.
That's two reasons already! Here are five more reasons to share with your clients.
1. Fewer surprises
Many of the pets in rescue centres and shelters are fully grown so there aren't any surprises when your little bundle of fur that looked ever so cute in the shop window grows into a dinosaur of a dog.  In fact, this is one of the key reasons that many pets are surrendered. Furthermore, rescue pets undergo a thorough examination, so if there's anything important (healthwise or behaviour-related) to know, you'll get this info upfront.
2. An affordable option
Without a doubt, no one should adopt a pet without considering the ongoing cost of healthcare, food, toys, bedding plus the time required for daily exercise and socialising.  However, a rescue pet can definitely be a more affordable option than buying through a breeder or, heaven forbid, a pet shop.
What's more, pets that come from a shelter are usually vaccinated and microchipped, saving you this added cost.
3. Saving a life
Adopting an animal from a rescue centre or shelter is a life-saving action. In some cases, pets that don't get adopted within a certain timeframe are euthanized, which is incredibly sad. If you know someone who is considering adopting a pet, remind them that they will not only be saving a life but also creating a space in the shelter for another animal in need.
4. An advocate for a bigger cause
The more people who adopt rescue pets, the fewer people there are to keep puppy mills and unethical breeders in business. Furthermore, when someone adopts a pet from a shelter they become a walking advertisement for rescue pets. They can help dispel the myths and spread reliable information about the benefits of rescue animals.
5. A beautiful bond
Despite the misinformation about rescue pets having behavioural issues, most shelter animals love their new owners. Indeed, some (but not all) rescue animals have had a bumpy start to their life. Yet, instead of making them aggressive and disobedient, this can actually make them very appreciative of their new, kind home.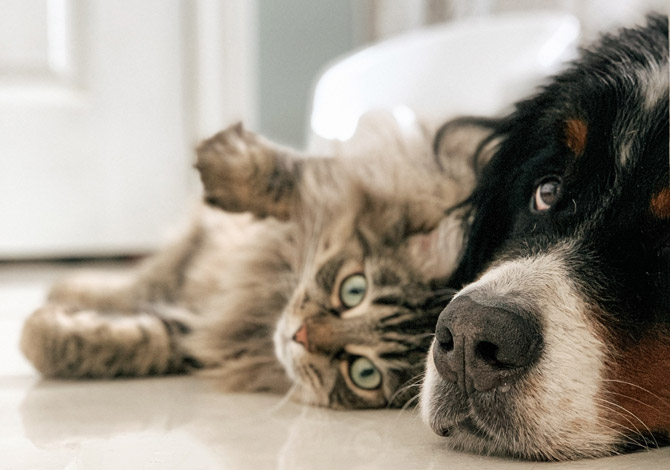 Supporting owners of rescue pets
Alongside highlighting the benefits of adoption, pet professionals can also assist pet owners to manage their new rescue pet. Why not take the opportunity to share the following tips, provided by pet psychologist Dr Jacqui Ley.
Be mindful that it will take some time for a rescue pet to feel truly comfortable and at ease in its new home.
Before bringing home a rescue pet, be sure to check and recheck your property is secure.
Establish a clear routine from the off to help the pet settle more readily.
Understand that initially the animal is likely to feel confused and may not be ready to accept their new home or owner.
Rescue pets can benefit from having a quiet place to go and rest. Make it a house rule that if the pet is in their "safe place" to leave them alone until they come out or it is time to do something fun.
For many pets, staying in a familiar environment when their owner is away is preferred. This is especially true for cats, in particular rescue cats. Having a trusted friend or pet sitter stay at your home can provide stability for the pet.
Recognise that growling is a dog and a cat's way of saying, "I am uncomfortable with what you are doing, please stop and give me space". Respect their request by moving away from them. It is not a win or lose situation, rather it's being polite and understanding.
Also important is to make sure your pet can be returned to you quickly if they decide to go walkabout.  Through our partner, you can get a great PetIDTag with a 20% discount, just click here – when you select your tag, the discount will automatically be applied!
---
Related posts:
Pet Adoption Month (and how you can support it)
Adopting a rescue pet: advice for owners
The following two tabs change content below.
Leanne Philpott
Leanne is a professional freelance writer at contentchameleon.com.au. She works alongside her fur pal Chewie (a border terrier) to deliver information that is accurate and relevant to our readers.
Latest posts by Leanne Philpott (see all)