For a business to succeed it needs customers. After all, customers equal sales and sales result in profit. Thankfully, there are lots of ways to promote your pet business without hefty advertising costs.
Perhaps you've set up your own online pet business or maybe you have a bricks and mortar store or a clinic — regardless of what type of business it is you'll want to promote it.
The question is, how.
Of course, there's a myriad ways to market and promote a pet business but if you want to do it online (which, let's face it, is a cost-effective way), here are a few options and hints
5 ways to promote your pet business online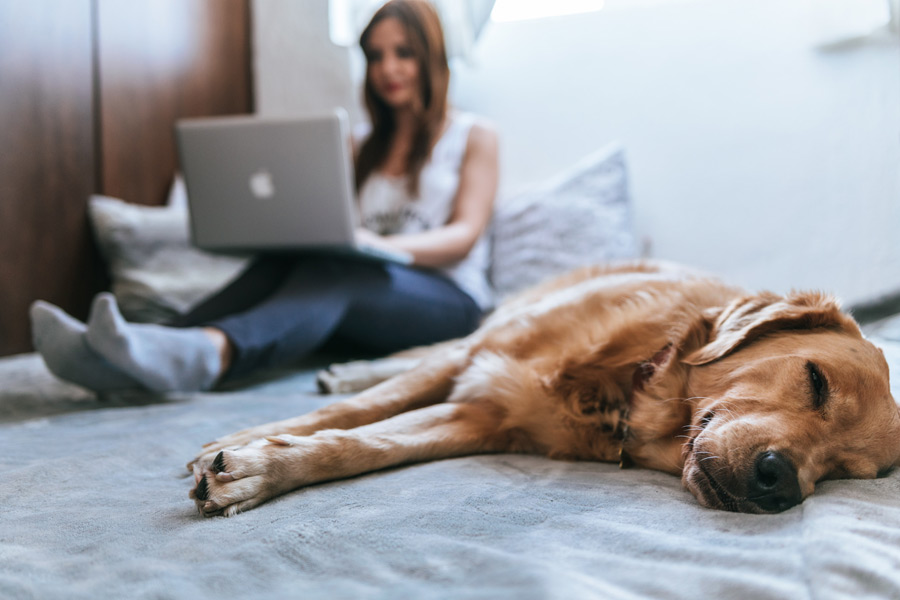 Image source: BRUNO CERVERA on Unsplash
1. Connect with pet owners
We know that pet owners love social media. There are even dedicated hashtags, such as #dogsofinstagram, #dogsagram, #catsofinstagram and #dogoftheday.
However, the trick is connecting with the online community (aka potential customers). To start, simply have a think about who your customer is and what sorts of sites, groups and forums that might associate with.
Follow or like relevant social media sites and then start to get involved. You can do this by posting an occasional relevant comment or tip, offering professional advice or product mentions — so long as it's appropriate.
HINT: Do not post offers or start blatantly advertising your business. This will not win you friends!
As people get to know you and recognise your business they will begin to follow you back and engage with you. They might even check out your website or blog (If you have one; more on this further down).
2. Embrace social media
Some businesses are a little afraid of social media, but they needn't be. My advice is to start small – perhaps with one or two platforms that you know — and build from there.
There's no point having multiple social media platforms if you're not going to do anything with them. Yes, they give you a presence on social media, but unless you're active you probably won't get much out of them.
Certainly, when it comes to social media content for your pet business pets are ideal. They're cute, loveable and highly popular. Super cute or funny images of pets are sure to gain likes and followers maybe even a few shares.
When planning or posting content, always ask yourself the question "Would I react to this?"
Images that elicit a response – be it "Argh", "Awwww", "How cute!" or "OMG" are good.
HINT: Always credit the source of the image to avoid copyright issues.
3. Start a blog
Starting a blog or including a blog on your website can benefit your pet business in many ways. It can:
Be a source of interesting content
Give you a voice
Showcase your knowledge
Provide you with shareable content
Reach new people (potential customers)
Be used as a source of information for a newsletter
Showcase your products or favourable reviews of your pet business
Help you rank better on search engines
If you're new to blog writing, here are a few tips on creating compelling blogs:
Make a list of topics that are interesting to your clients or customers and relevant to your business
Create a content schedule that aligns with promotions you are running or national pet-related events
Make sure your content is high quality
Ensure your blogs always offer something to the reader, by way of information
Share your blogs links on social media to help drive traffic to your blog/website
Consider doing a basic SEO course
4. Keep your website fresh
Certainly, some businesses think that a website is a set-and-forget task. In most cases this isn't true.
Of course, if your pet business sells products you're likely to be adding new product listings to your site but what if you're a service provider?
You still want to keep visitors coming to your site. In order to do this, you need to keep your site fresh.
In fact, even e-retail sites need to keep things fresh. Simply adding new products every now and again doesn't necessarily keep the site from getting stale and boring.
Take the time to ask friends and family members what they think of your site. Consider it a free focus group. After all, an outdated design or poor user experience can lose you customers.
What's more, frequently updated content (such as your blog) means that search engines will crawl your site more regularly which can help you rank higher in search engine results.
HINT: Most people access websites via mobile devices. So don't forget to check your website on your mobile phone!
5. Get creative with video
Video has become the king of content. People love watching and sharing videos which is great for any business — providing your videos are engaging 'and' market your business or services.
Here are a few ideas on how to use video to promote your pet business:
Showcase a product (ideally a best-selling one or a product that's relevant to the season)
Use video to bring customer testimonials and review to life
Create a series of how-to videos (using your products or to demonstrate your knowledge)
Share industry insights, knowledge and stats (to set yourself up as an industry authority)
HINT: Don't just post videos to your website, be sure to share them across social media too (sites like Facebook, Vimeo, YouTube).
Do you promote your business online? We'd love to hear your tips.
---
Related posts
The following two tabs change content below.
Leanne Philpott
Leanne is a professional freelance writer at contentchameleon.com.au. She works alongside her fur pal Chewie (a border terrier) to deliver information that is accurate and relevant to our readers.
Latest posts by Leanne Philpott (see all)