Having customers and clients trust in your brand is essential for business success. But how do you generate brand trust?
Brand trust is a business topic that never goes out of fashion. It's always relevant, no matter what industry you work in. However, for pet owners and their beloved pets, being able to trust their vet, groomer or pet sitter is paramount.
As such, brand trust is important for the longevity of your brand and business. It helps create loyalty, respect and appreciation. And this fuels positive word of mouth referrals and conversations, which in essence is free advertising.
Indeed, we now live in a word where people rely quite heavily on real reviews, recommendations from friends and family and research. Most people will participate in this type of activity before committing to a product or service.
How many times have you researched a product online and found the cheapest priced item, but gone on to buy the identical product at a higher price because you recognise and trust the supplier or brand? It happens and it's testament to the fact that brand trust is important.
Ways to build brand trust — veterinary clinic
The rise of the internet has changed everything. It's opened up the marketplace and made it possible for small brands and businesses to be seen and heard.
As the owner of a veterinary clinic, you are no doubt a lover of animals and an advocate for animal welfare issues. However, this support of animals should reach people outside of your clinic and local vicinity.
Brand trust should be far reaching. By setting yourself apart as an industry advocate, you can build respect and trust amongst people that don't know you. To do this you can hold information seminars or share your knowledge through a blog. You can also employ the help of a PR agency to help position you as a leader in your field.
Another way to create advocacy for you and your brand or business is to facilitate customer reviews. Give your clients a feedback form to fill in after each appointment or follow them up with an email with a link to an online review form.
Online reviews not only assist your online presence, positive reviews are a sure fire way to establish brand trust.
Ways to build brand trust — pet sitter
As a pet sitter, not only are clients trusting you to take good care of their animal, in many cases they're also trusting their home to you. They trust you will respect and take care of their things. They trust you will respect their privacy.
As a pet sitter, one of the things you can do to establish trust is to align yourself with reputable pet sitting businesses, for example Paw Shake, Mad Paws and Trusted House Sitters.
This gives new and potential clients the confidence you have been vetted and your qualifications have been checked. It's also a great opportunity for you to collect positive reviews from your customers, particularly is you don't have your own website (but more on that next).
These days most people expect to find businesses and services online. Having a well presented website with sufficient information and images says a lot about you and your business. Think of it as your first impression. And we all know first impressions count.
When setting up your website and thinking about brand trust, put yourself in the shoes of a potential client. What do they need to know to trust in you? Is there specific information that would be important to them? What can you tell them that differentiates you from other pet sitters they may be look at?
When it comes to building brand trust, important factors to showcase include your professional qualifications, details of any background checks you've secured, insurance you have (for example, professional indemnity insurance) and testimonials from clients.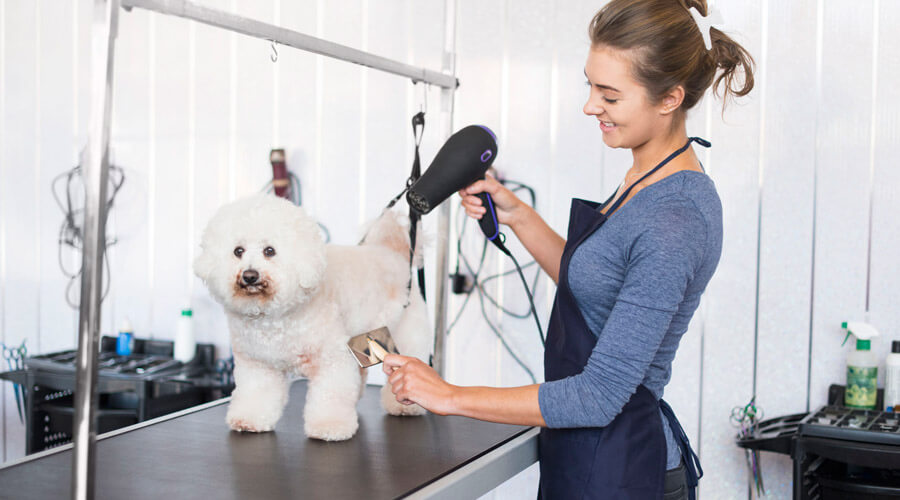 Ways to build brand trust — pet groomer
A pet owner's relationship with their pet groomer is certainly build out of trust. After all, a pet owner won't let just anyone come at their dog with a sharp pair of clippers!
In fact, according to Learn 2 Groom Dogs (a US-based organisation that trains pet groomers), "We are not in the business of washing and styling pets. We are in the trust business.
"To be a successful pet groomer or stylist, you need to have repeat clientele. Repeat clients are attracted to the same types of characteristics as your good friends. When you get others to trust you, it's easier to grow your clientele and/or your business. It allows you to give all your clients and the pets exceptional service."
To find the right groomer, pet owners will do their research. They'll look online, ask friends and family and their local vet for recommendations.
Which is why testimonials and online reviews are super important.
Finally, brand trust will come down to you and your personality. A parent wouldn't leave their child with someone they don't like or don't feel comfortable around; the same goes for pet owners.
As a pet groomer, brand trust rests on your social skills and personality. It's not about being outgoing and chatty, it's about engaging with clients and making them feel at ease.
A great way to build trust is to share real stories of dogs that have been apprehensive about being groomed and how you build trust with the animal.
Again, encourage clients to write you a testimonial or post a review online.
A blog, written by you in your own voice, is a great way to showcase your personality and help potential clients get to know you.
Building brand trust: tips
Building brand trust takes time, but it's not rocket science. It really comes down to authenticity, respect and relationships.
Here are a few tips to keep in mind when building brand trust for your business or service.
Be real (authentic). Don't over-promise. Know your strengths and your weaknesses and create a niche by doing what you do really well.
Show you are a legitimate business. Including your address, phone number/email or ABN number on your Contact page can do this.
Have an online presence (at the very least have a Facebook page for your business).
Respect your customers/clients. Always respond to calls and emails. This should be done in a professional and timely manner.
Build relationships. Be open and honest and treat other people as you would expect to be treated. Consider yourself as a walking advertisement for your business and act accordingly.
Encourage testimonials and online reviews.
---
Other posts you might like:
The following two tabs change content below.
Leanne Philpott
Leanne is a professional freelance writer at contentchameleon.com.au. She works alongside her fur pal Chewie (a border terrier) to deliver information that is accurate and relevant to our readers.
Latest posts by Leanne Philpott (see all)